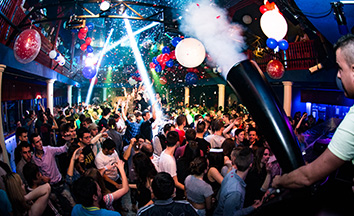 Disco BAR
The club started functioning 6th November 1998. Parties used to be held 3 times a week and although they started at 10PM there were long queues waiting outside half an hour before the beginning of the event.
At present, the RCF Sound, SGM and FUTURELIGHT are responsible for the sound and light effects. Thanks to the unique design and quality equipment as well as the capacity, the club rapidly became incredibly popular with young people in a 100km radius.
The style of the music and performers are always up to the date. Resident DJs Cory B and Maxy created an atmosphere unlike any other, and in the year 2000 took the concept of partying in Vojvodina to the next level with the help of Cino. According to a survey carried out in 20015 by Chillout webmagazine, Bali Club is the 3rd best club in Serbia.
It offers a huge dance floor, 4 bars of which one is especially for cocktails, a gallery like chillout space and guarantees an unforgettable experience. What is more, it is easily accessible from any part of the town or nearby cities.
Picture gallery