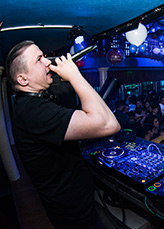 BILLY SIZEMORE
He started in Bali Dance Club as a light tech in 2004 and got the opportunity to show his skills as a Dj a year later with the help of Cory B (R.I.P.). Later on, Billy frequently played music alongside Dj Maxy and Cino and collaborated with Cory B on Tech-Time Nights in 2008. He also performed at nearby parties and events (Omladinske igre in Senta, Sinful Promo in Ada, Club Echo in Moravica, Club Faith in Čantavir..)
In the summer of 2007 Sizemore worked on club hits, remixes and bootlegs with Dj Maxy named "Maxy and Billy". The first hit came out in 2008, which was a remix of Chris Lawyer & Thomy's "Shine On Me". In 2009 he became a Bali Club resident and performed alongside Djs such as Philipp Straub aka Felipe, Marko Nastic, Dejan Milicevic, Muzzaik and many more.
In 2010 Billy and Dj Maxy collaborated on the Southland Dj's project and published their first recording "Fly" at Pornstar Records at the end of the year.
In 2011 many more remixes and recordings came out within the Southland Dj's project. They worked with: Josh The Funky 1,Sanya Shelest,Mansty,Stereo Palma,Andrew Puber etc. As a resident dj in Bali Club he performs with Jesse Voorn,D.O.N.S.,Belocca,Jay Lumen.. Furthermore, Billy performs at various clubs in Hungary such as Boomerang Club (Szolnok),Club 1001 (Bordány),Sonic Dance Hall (Hajdúszoboszló).
In 2012 Billy became a producer and has been publishing music through Funktion Black (Josh The Funky 1's publisher),DanceMania Recordings (Stereo Palma's publisher) etc.
CONTACT