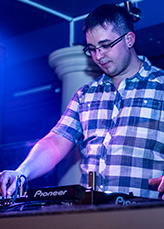 APPLE JR.
My name's Almási Gábor, i'm from Magyarkanizsa,Serbia. I have always been passionate about music and thus started pursuing my career as a dj in elementary school (i was 13 at the time). I began makind music on my computer with the Traktor DJ program. In 2005, i took part in a DJ course taught by DJ Maxy where i learnt to use a turntable. My mentor was a local club's resident dj who recognised my potential. Later on we became a team with DJ Cartman.
The name i use as a dj is a translation of my surname (Almási=Apple). The Jr. originates from the fact that i'm the youngest in my family.
I've been a resident dj at Bali Club since the august of 2012, after proving myself to be the best out of 65 contestants who applied to become djs at the club.
CONTACT